Free for Kids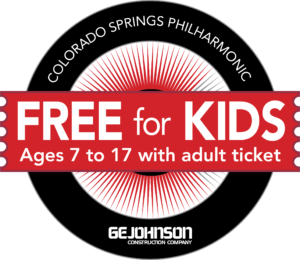 Free for Kids invites young audiences to hear the Philharmonic with complimentary admission for ages 7-17. Free for Kids is made possible in part by the support of GE Johnson Construction Company and annual gifts from other generous donors.
---
How it works
Up to two Free for Kids tickets are available per regular-price adult ticket. Free for Kids tickets may be requested in person at the Pikes Peak Center Box Office.
---
Free for Kids Concerts
All Masterworks and Signature Series Free for Kids are Sundays
All Philharmonic Pops Free for Kids are Fridays
The Planets –Sunday, September 22, 2019
The Music of Queen –Friday, September 27, 2019
Max and Mozart –Sunday, October 6, 2019
Brahms 4 –Sunday, October 20, 2019
Disney Pixar's Coco –Friday, November 1, 2019
All Jazz: Jeffrey Biegel –Sunday, November 10, 2019
Pacho Flores: Espiritu Libre –Sunday, November 17, 2019
Four Last Songs –Sunday, January 26, 2020
Robert McDuffie: Eight Seasons – Sunday, February 9, 2020
The Spirit of Prohibition –Friday, February 14, 2020
Mozart and Tchaikovsky –Sunday, February 23, 2020
Celtic Spirit –Friday, March 13, 2020
Leningrad –Sunday, March 29, 2020
Marvel vs. DC –Friday, April 3, 2020
Voices of Light: The Passion of Joan of Arc –Sunday, April 26, 2020
Aretha: Queen of Soul –Friday, May 8, 2020
War Requiem –Sunday, May 17, 2020
---
Terms of Sale
Free for Kids offers complimentary admission in seating levels 2-5 to young people ages 7-17 when accompanied by a regular-price adult ticket (offer excludes senior and military discounts). Up to two Free for Kids tickets are available per regular-price adult ticket. Free for Kids tickets are subject to sufficient ticket availability at select Philharmonic concerts and may not be combined with other offers. Other restrictions and/or exclusions may apply. For young people outside of the ages of participation in Free for Kids (7-17 years), student priced tickets are available. Philharmonic performances are not recommended for children under 7 years or who are unable to sit quietly for the duration of a concert. This policy is subject to change without notice.
Philharmonic subscribers must request Free for Kids tickets in person at the Pikes Peak Center box office and may be re-seated. Any price differences associated with upgraded seats will be charged to the subscriber, and no refunds are issued for moving to a lower priced seat.
---
Sponsor