The Nutcracker
Pikes Peak Center for the Performing Arts
190 S. Cascade Ave
Colorado Springs, CO 80903 United States + Google Map
Season Presented By:
Series Presented By:
Program
Tchaikovsky The Nutcracker
About The Performance
The Nutcracker continues to awaken the holiday spirit in Colorado Springs audiences year after year. Let your wonder kindle and feel the glimmer once more as you kick-off the holiday season over Thanksgiving weekend with Clara and friends.
Read More
The Nutcracker
PYOTR ILYICH TCHAIKOVSKY (1840 – 1893)
Approximately 90 minutes
Act One
It's Christmas Eve in a small, snow-covered German village where the Stahlbaum family is having a holiday party. Herr Drossylmeyer, an old toy maker and Stahlbaum family friend, is in his workshop making last minute touch-ups on a beautiful, handcrafted Nutcracker. Hans, Drossylmeyer's nephew and young apprentice, watches and assists his mentor. Meanwhile, back at the Stahlbaum home, Clara and brother Fritz are very excited about the festivities. The maids and the butler are working to be sure everything is prepared and Mr. and Mrs. Stahlbaum are tending to their dress. Fritz and Clara have a wonderful time dancing and playing with friends. Herr Drossylmeyer and Hans arrive at the party. They bring amazing gifts for everyone, including magical life-size dolls that dance and amaze all the guests. Drosselmeyer saves the best for last – The magical Nutcracker doll that he presents to Clara. Clara is enthralled by her gift and dances with the wooden toy. Out of jealousy. Fritz breaks the Nutcracker, but Drossylmeyer is able to fix him with a little magic. Later the night, after all the guests have gone home, and the Stahlbaum family has gone to bed, Clara sneaks back downstairs to check on her Nutcracker, and she finds him resting on the settee. There are strange noises everywhere! Suddenly giant mice fill the room and begin to chase Clara. The living room is magically transformed into a battleground between giant mice and toy soldiers. Clara finds that her toy Nutcracker has come to life and is fighting to save her from the evil Mouse King. As the battle rages, Clara sees that the Mouse King is winning! Clara hits the Mouse King on the head with her shoe. This distracts the Mouse King, and the Nutcracker heralds the final blow. Clara is distraught and faints from the commotion. When she awakens she has grown and her beloved Nutcracker has magically transformed into a handsome prince. It is Hans, the young boy whom she met at the party! Clara and Hans travel through a winter wonderland, where they are greeted by dancing snowflakes. There they begin their magical journey
Act Two
Prince Hans and Clara arrive in the Land of the Sweets where angels have blessed the path before them. The Sugar Plum Fairy and her Cavalier greet the couple and introduce them to delectable treats and toys. Clara and Hans tell the story of their battle with the Mouse King. As a reward for her bravery, the Sugar Plum Fairy gives Clara her magic wand. In celebration, everyone dances for Clara and Hans. The exquisite Sugar Plum Fairy and her Cavalier dance last and capture Clara's heart with their dazzling performance. They all dance one last grand finale until at last it is time for Clara to return home. Everyone bids her farewell as she and her Nutcracker prince fly away in their magical bird. Clara awakens and finds herself back in her own home. Before she goes to bed, she runs to get her beloved Nutcracker. As she does, she finds on the floor the glittering magic wand that was given to her by the Sugar Plum Fairy and she wonders: Was it all a dream?
Founded in 1972 by Ballet Russe dancers Yvonne Chouteau and Miguel Terekhov, Oklahoma City Ballet has been the city's professional ballet company for more than 40 years. It is the resident dance company of the Civic Center Music Hall and currently boasts 31 dancers from around the world. Led by Acting Artistic Director Ryan Jolicoeur-Nye, the company produces four main stage productions per season in Oklahoma City and tours across Oklahoma and surrounding states. It is the only ballet company of its size to regularly debut world premiere story ballets with original commissioned scores and commissions new works from the industry's leading choreographers.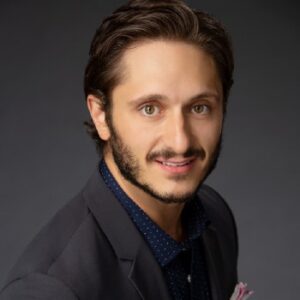 ACTING ARTISTIC DIRECTOR, OKLAHOMA CITY BALLET
Ryan Jolicoeur-Nye
Originally from central Maine, Ryan Jolicoeur-Nye began his ballet training at the age of 16, working with renowned Kirov Ballet Dancer, Andrei Bossov as well as The Royal Winnipeg Ballet School Professional Division. Upon graduating from Royal Winnipeg Ballet, Jolicoeur-Nye attended the Banff Summer Arts Festival where he performed the principal role in Fernand Nault's Carmina Burana. Jolicoeur-Nye went on to dance for Festival Ballet of Providence, Eugene Ballet, and Ballet Idaho where he was promoted to principal dancer in 2011. In 2012, Jolicoeur-Nye joined Kansas City Ballet where he danced many principal roles, including Jerome Robbins' Fancy Free, Septime Webre's ALICE (in wonderland), Michael Pink's Dracula, as well as Devon Carney's Swan Lake, Giselle, and The Nutcracker. Jolicoeur-Nye retired from Kansas City Ballet in 2016 and eventually became the second company manager. In 2018, Jolicoeur-Nye was named Artistic Director of Northwest Arkansas Ballet Theatre based in Bentonville. Under his tenure, the company experienced exponential growth, creating more than 80 performances and reaching over 28,000 area residents. As a choreographer, he has created ballets for Northwest Arkansas Ballet Theatre, Ballet Idaho, Chicago Repertory Ballet, Kansas City Ballet, Royal Winnipeg Ballet School, Moving Arts Dance Festival, and Ballet Des Moines, among others. Jolicoeur-Nye was named "Outstanding Choreographer" at the 2017 Youth American Grand Prix as well as "Best Choreographer" at the World Ballet Art Competition (WBAC) Grand Prix 2019. Jolicoeur-Nye joined Oklahoma City Ballet in August 2020 as a Rehearsal Director, working closely with company dancers and creating choreographer for several short works. In January 2022, he was named Acting Artistic Director. Jolicoeur-Nye is married to Racheal Nye, School Director for the Oklahoma City Ballet Yvonne Chouteau School and together they have two children who often dance student roles in Oklahoma City Ballet productions. In his free time, Ryan enjoys playing music, painting, cooking, and family time.
SET DESIGNER, OKLAHOMA CITY BALLET
Gregory Crane
Gregory R. Crane is an Emmy Award-winning set designer on the Oklahoma Centennial Spectacular featuring a cast of hundreds and numerous headline performances including Toby Keith, The All American Rejects, The Flaming Lips, Blake Shelton, and Reba McEntire. Having completed designs for over 180 productions, he had the privilege of designing for such companies as Six Flags Theme Parks, the Dallas Cowboys, Herschend Family Entertainment, Royal Productions, Fee Hedrick Family Entertainment Group, and Corporate Magic. In conjunction with Corporate Magic, Crane has designed many high-energy corporate events for Mazda, Rite Aid Pharmacies, the Dallas Cowboys, Miller Lite, Salvation Army, Whataburger, and Prudential Real Estate. Recently Crane's designs have been featured in the internationally famous Dallas Cowboys – Salvation Army Thanksgiving Day Halftime Show on FOX starring Enrique Iglesias (2011). He has also designed for past performers Keith Urban (2010), Daughtry (2009), The Jonas Brothers (2008), Kelly Clarkson (2007), Carrie Underwood (2006), Sheryl Crow (2005), and the 2004 Halftime Show starring Destiny's Child. In 2010 Crane designed the opening to the Tournament of Roses Parade on ABC, the Super Bowl XVL Press Conference 2010, and the BSA 2010 National Scout Jamboree – Celebrating 100 years and featuring Mike Rowe and Switchfoot (Winner 2011 Excellence in Live Design Award for Corporate Events). In addition, his work has been seen on CBS, NBC, ESPN, HGTV, Univision, and PBS/OETA. In 2011, Crane unveiled his new set design for The Tournament of Kings at the Excalibur Resort and Casino in Las Vegas and a Christmas themed amusement park in Tennessee. Other memorable projects include: Joseph and the Amazing Technicolor Dreamcoat at The Miracle Theater, The Drowsy Chaperone, Encore, The Smoky Mountain Opry, and Evil Dead: The Musical.
COSTUME DESIGNER, OKLAHOMA CITY BALLET
Susanne Hubbs
Susanne Hubbs has been designing and sewing costumes for dancers, figure skaters, and synchronized swimmers for 35 years. Her costumes have been worn by hundreds of Youth America Grand Prix competitors, as well as many elite international figure skaters. Tutus designed and created by Hubbs have been featured in Pointe Magazine in 2008, 2009, 2010, 2011, and 2013. Other ballet designs were created for and worn by the Brandywine Ballet, St. Lucie Ballet, Imagine Ballet Theatre, Ballet Nouveau Colorado, and Oklahoma City Ballet. Hubbs collaborated for many years with the choreographers and dancers of Ormao in Colorado Springs, creating hundreds of innovative contemporary dance costumes. She started ballet training at the age of five, continuing to perform with the Olympia Festival Ballet, the American Jazz Dance Company, Dayton Ballet and Dayton Ballet II, Alaska Dance Theatre, and Ballet Alaska. She received the "Young Choreographer's" award from Regional Dance America in 1983. Additionally, Hubbs has been teaching ballet for 37 years, with students going on to prestigious college dance programs and professional careers in dance. Today, her design studio is a bustling creative space, located in Colorado Springs at the foot of Pikes Peak, where the mountains provide her with daily inspiration.
LIGHTING DESIGNER, OKLAHOMA CITY BALLET
Aaron Mooney
Aaron is delighted to be joining OKC Ballet for another season as Resident Lighting Designer. Aaron is also the Resident Lighting Designer and Professor of Lighting Design at Oklahoma City University, where he joined the faculty in 2012. Aaron holds an MFA in Theatre Design from New York University's Tisch School of the Arts and a BA in Theatre Education from The University of Tulsa. Aaron has lit events in spaces as large as Radio City Music Hall (NYC), the Western Heritage Museum (OKC), and The Joint at the Hard Rock Casino (Tulsa) as well as spaces so small that they barely deserve to be called theatres. Recent design credits include: Sleeping Beauty, Of Dreams and Dice, The Little Mermaid, Firebird, Swan Lake, Giselle, La Slyphide, Our Private Rooms, A Midsummer Night's Dream, Romeo and Juliet, The Nutcracker, Exurgency (Oklahoma City Ballet); An American in Paris (Music Theatre Wichita); Noises Off, Death of a Salesman (Montana Shakespeare in the Parks); Pageant (Lyric OK); and King Lear (Oklahoma Shakespeare in the Park). Previous Lighting Designs for OCU include She Loves Me, Spamalot, The Music Man, Crazy for You, Susannah, Side Show, The Marriage of Figaro, Sister Act, Three Sisters, Hairspray, Mr. Burns: A Post Electric Play, As You Like It, RENT, The Grapes of Wrath, Street Scene, 9 to 5: The Musical, Bernstein's MASS, and The Dialogues of the Carmelites. In addition to all of his theatrical design work, Aaron has worked on exhibition lighting at the S.R. Guggenheim Museum, the National Academy of Design, the Cooper Hewitt National Design Museum, the National Museum of the Native American (NYC), and the Morgan Museum & Library. Fashion lighting in New York City includes: Barneys New York, Prada, Armani, and Dolce + Gabbana.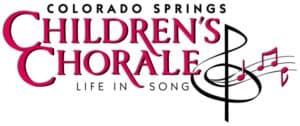 The Colorado Springs Children's Chorale is now in its 46th season of sharing music and serving as ambassadors from the Pikes Peak region. Children's Chorale membership represents all corners of Colorado Springs and reaches up into Teller County as well as the eastern plains. Groups from the Children's Chorale have sung with symphonies, chamber orchestras, and adult choirs, as well as other children's choirs from all over the world. The Chorale's musical excellence has earned them national recognition as one of the country's outstanding children's choirs and first place awards from numerous international choir festivals. In the United States, the choirs of the Children's Chorale have been honored to be guest performers at the Kennedy Center in Washington D.C. and at Carnegie Hall in New York City. The Colorado Springs Children's Chorale has received the El Pomar Award for Excellence in the Arts and Humanities for the state of Colorado, the Mayor's International Award for International Outreach, and has been honored with several awards from the Pikes Peak Arts Council. This season the Children's Chorale has been invited to perform at the Lincoln Center in NYC under the baton of choral rock star and composer, Eric Whitacre. The Children's Chorale is known for their musical excellence, but perhaps more importantly they are known for the wonderful young people involved in the organization who are polite, considerate, confident ambassadors of the human spirit Inspiring youth to musical excellence and artistic expression in a nurturing environment—cultivating integrity, professionalism, and leadership.
JOIN-HIRE-SUPPORT at kidssing.org, 719 -633-3562,
P.O. Box 7841, CSC 80933
Read Less
Concert Sponsors
Children's Hospital Colorado
Colorado Springs Philharmonic Guild
Kirkpatrick Family Fund
The Gazette