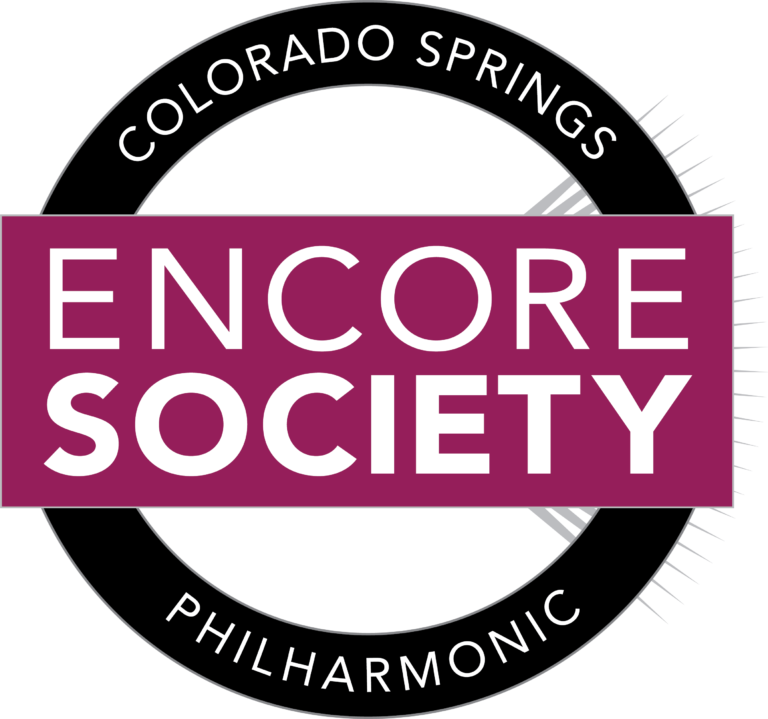 "Music is a legacy that we must do all we can to sustain. It's a precious heritage to maintain for our children to learn, enjoy, and experience. I decided years ago to support the Philharmonic through a bequest in my will—now I know that the music I love will live on, long after I'm gone. This is my heartfelt gift to future generations; please join me in preserving the music for them." — Judy Fair-Spaulding
The Encore Society recognizes those who have remembered the Philharmonic in their estate plans. Patrons who choose to leave a legacy to the Colorado Springs Philharmonic are eligible to become members.
Benefits of the Encore Society include:
Special Encore Society lapel pin
Invitation to the annual luncheon
BRAVO, the quarterly newsletter
Invitations to special Philharmonic events
Concert dedication for donors of $100,000 or more at gift realization to include free tickets to family members and donor hospitality access that evening.
---
Methods of Giving
Below are a few examples of the most common types of Planned Gifts. Please consult your personal tax, financial or legal advisor to develop a giving plan that will meet your needs.
Bequests
Donors may designate the Philharmonic as a charitable beneficiary in a will. Donors may designate the Philharmonic as a sole beneficiary, for a specific dollar amount, for a percentage of the estate, for a remainder or the balance of an estate after other needs have been fulfilled, or as a contingent beneficiary in case other beneficiaries do not survive.
Trusts
Trusts are gift arrangements that are made now and provide the donor or other designated beneficiaries with current or future income, as well as tax benefits.
Beneficiary Designations
Donors may direct assets by naming the Philharmonic as a beneficiary of an investment account or life insurance policy. This can be done with retirement accounts, life insurance and other financial accounts.
Real or Personal Property
A gift of land, a house or work of art, for example, may be a preferred way to make a gift. These gifts require review and approval by the Philharmonic's Gift Acceptance Committee.
---
Directing Your Gift
When planning your estate, use our legal name, Colorado Springs Philharmonic Orchestra, if you desire your gift to go directly to the Philharmonic's operational budget, include our Federal ID number: 74-3091110. Gifts can be designated to the Colorado Springs Philharmonic Endowment and can be indicated as such in your planning.
The Colorado Springs Philharmonic is a registered 501(c)3 nonprofit organization.
It is important to seek the advice of a legal professional to develop a giving plan that will meet your needs. We can help you find a professional advisor. Please feel free to contact the advancement team at the Philharmonic with your questions at 719-575-9632.
Click here to download a brochure.
Colorado Springs Philharmonic
PO Box 1266
Colorado Springs, CO 80901-1266