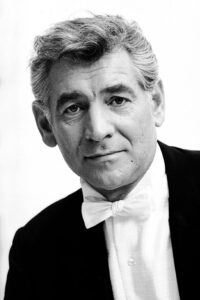 Just about any discussion about Leonard Bernstein can quickly devolve into a list. Of genius. Of greatness. Of joyous risk taking and majestic ambitions.
World-class pianist. The first American-born and trained music director of a major world orchestra. Acclaimed composer of classical works like Mass, ballets and operas, but also West Side Story and other Broadway hits, and film scores like On the Waterfront. Centerpiece of Young People's Concerts, a groundbreaking music appreciation program that ran on CBS from 1958-72. Teacher and mentor. Poet. Author of the popular The Joy of Music. Optimist, bon vivant, smasher of the status quo.
The Colorado Springs Philharmonic celebrates this Renaissance man with Leonard Bernstein at 100: The Best of All Possible Worlds, a six-week festival that officially culminates on March 3. With more than 40 events, 22 community sponsors (Penrose-St. Francis Health Services, El Pomar Foundation, El Paso County, and others) and 13 partners, it is one of the most comprehensive such festivals in the world.
Music Director Josep Caballé-Domenech suggested it more than a year ago.
"So, we asked ourselves what mark we wanted to make," says Philharmonic President and CEO Nathan Newbrough. "We could just play a bunch of Bernstein music, but were we really honoring the man by doing that?"
They knew music was required, of course. The Philharmonic performed a varied selection of his work in 14 concerts, including accompanying the film West Side Story (March 2-3). THEATREWORKS and Opera Theatre of the Rockies are also collaborating on a production of Bernstein's one-act opera, Trouble in Tahiti (Feb. 22-25), which skewers post-war American materialism.
Colorado College, GOCA-UCCS, the Fine Arts Center, the Pikes Peak Library District, the Rocky Mountain Women's Film Institute, the Shivers Foundation at PPLD and KCME 88.7 FM are among the other organizations contributing music to the festival.
But there's more to Bernstein (pronounced Bern-stine), Newbrough says.
"Bernstein was a great pianist, composer, conductor, teacher, mentor, and international music celebrity, but also an activist for anti-violence and civil rights at a time when those things were very unpopular," Newbrough says. "He put his entire reputation on the line for what he believed in. We think his causes absolutely resonate with our audience, our musicians, and with the community of Colorado Springs."
Her father believed in our ability to create a better world, says Jamie Bernstein, who headlines Colorado College's Bernstein Symposium (Feb. 22-24). "Leonard Bernstein was not shy about sharing his political beliefs with the world. Nor was he afraid of the various epithets — liberal, Jew, antiwar, radical chic, commie-pinko-queer — which over the years stuck to him like burrs on his coattails. He spoke out and fought doggedly for the causes he believed in."
Newbrough calls that dedication "heroic" and festival programs —including GOCA – UCCS' Floyd D. Tunson: Janus and THEATREWORKS' Town Hall: Race, Class, and the American Stage — speak to some of Bernstein's most passionate causes.
"This will be our reply to violence: to make more music more intensely, more beautifully, more devotedly than ever before," said Bernstein after John F. Kennedy's assassination. You can find the quote on a 300-foot mural at the corner of Tejon and Vermijo. (The Downtown Partnership of Colorado Springs sponsored it for the festival.)
Bernstein died in 1990, working-creating-inspiring almost to the last. He was 72.
"I don't want to spend my life, as Toscanini did, studying and restudying the same 50 pieces of music," he wrote in The New York Times. "It would bore me to death. I want to conduct. I want to play the piano. I want to write for Hollywood. I want to write symphonic music. I want to keep on trying to be, in the full sense of that wonderful word, a musician. I also want to teach. I want to write books and poetry. And I think I can still do justice to them all."