One of the brightest stars in American jazz will join the Colorado Springs Philharmonic this New Year's Eve for a soaring and spectacular performance. Ticketholders will glide into 2023 on the extraordinary stylings of Aaron Diehl – a world-renowned solo, ensemble, and orchestral performer. This musically agile virtuoso delights audiences with original compositions and his fresh, dexterous versions of classical works and contemporary jazz. Now Harlem-based, the Columbus, Ohio native began pursuing his musical interests early in life with the support of his grandfather, Arthur Baskerville – a pianist and trombonist.
Diehl began his formal music education at age 7 with classical piano lessons and was soon accomplished enough to begin performing at his family's church. During these tender years, Diehl laughingly recalls thinking that jazz was just "old people's music." This opinion was flipped when the young student participated in the Interlochen Summer Camp and was introduced to recordings of Oscar Peterson, Art Tatum, Duke Ellington, and Thelonious Monk, kindling his passion for the jazz genre. By the time he was a junior in high school, Diehl was awarded "Outstanding Soloist" in the 2002 Essentially Ellington competition held annually at the Lincoln Center. His performance there opened the door for an invitation from Wynton Marsalis. Marsalis – who refers to his protégé as "The Real Diehl" – took the teenager on a European tour with his celebrated septet, launching the young prodigy into the spotlight. Upon his return from the tour, Diehl enrolled at the Julliard School, where he was mentored by Kenny Barron, Eric Reed and Oxana Yablonskaya.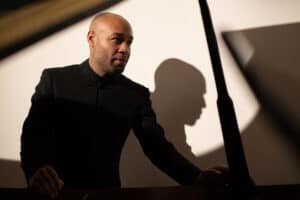 In 2006, while still a student, he released Mozart Jazz, a trio recording he made on the Japanese Pony Canyon label. The album was a success, culminating in a documentary that garnered 5 million listeners on Japanese broadcaster NHK. A year later, he was awarded his Bachelor of Music in Jazz Studies from Julliard. Once he had graduated, Diehl got busy with studying, performing, and recording both jazz and classical composers. Diehl's professional discography includes five well-received and critically acclaimed albums. The first – Live at Caramoor – was a live solo concert recorded at the famed 2009 Caramoor Festival. This was quickly followed by a second recording, Live at the Players, which featured two of his trios. By his next release, Diehl had joined Mack Avenue Records – an award-winning label featuring artists in multiple genres, including jazz, blues, gospel, and R&B. In 2013, at age 28, Diehl released his first album with them: The Bespoke Man's Narrative. All About Jazz critic, Mark Turner, praised Diehl's "…musicality – exquisite touch, phrasing, and melodicism…" Turner went on to note that "…there's a timeless quality to the music, hearkening to the panache of pianist Duke Ellington and swing of The Modern Jazz Quartet."
Diehl laughingly recalls thinking that jazz was just "old people's music."
The album reached No.1 on the JazzWeek Jazz Chart . In 2015, Diehl released Space Time Continuum, hailed by the New York Times as a "superior new album" that "upholds a traditional framework while crisply demolishing the usual notions of conservatism. It's a jubilant, swinging outing …" Diehl rose to new heights with his 2020 release of The Vagabond – nine exceptional tracks spanning original works and the compositions of Sir Roland Hanna, Philip Glass, and Sergei Prokofiev. JazzTimes proclaimed, "…what sets [the trio] apart from the work of Diehl's contemporaries is the pianist's restive, unpredictable right hand. Pat melodic designs and resolutions are not an option for Diehl, it seems, nor are routine progressions. Instead, elliptical single-note lines lend his compositions a probing energy, a quality that vibrantly offsets his innate lyricism." In addition to recording, Diehl maintains a demanding performance schedule, appearing with luminaries such as Warren Wolf, Lew Tabackin, Matt Wilson, Wycliffe Gordon, Benny Golson, and Hank Jones. He has been a guest performer with numerous orchestras, including the Boston Symphony Orchestra, the Jazz at Lincoln Center Orchestra, and the New World Symphony. He has been a frequent guest at European jazz festivals, is a recipient of the Martin E. Segal Award and the Hank Marr Awar , and in 2009, was a featured guest on NPR's longest running cultural program, Mary McPartland's famed Piano Jazz.
Amidst this busy agenda, Diehl also participated in a rigorous year-long contest sponsored by the American Pianists Association. In 2011, he succeeded and was awarded their Cole Porter Fellow in Jazz. Judged by renowned jazz recording veterans, Diehl was selected from an elite set of young, world-class pianists who were his competitors. Even among them Diehl was a standout, capturing the attention and respect of all who heard him. Commentator Becca Pulliam who covered the competition for NPR marveled, "Aaron Diehl has a way of backing into a piece. He begins freely, or so you think, then gradually sneaks in a progression or a rhythm, a rumble." As we turn over to a new year full of promise, we can think of no better way than to ring it in with one of America's most extraordinary and innovative jazz performers – a towering talent to get the right start for 2023.