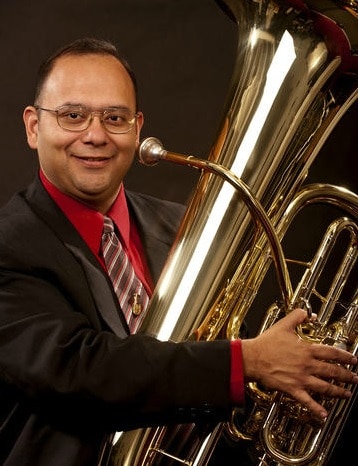 Each year in cities around the world, tuba and euphonium players gather to revel in the holiday season. The dark and pillowy sounds of the tuba reverberate around the area as a crowd of like-minded players perform Christmas carols. For the last 48 years, TUBACHRISTMAS concerts have been held in cities large and small, from Paris to Sedona, providing a holiday haven for lovers of the lower end. It is rare for the tuba to take center stage, but TUBACHRISTMAS provides the opportunity to showcase the sousaphonic splendor of the Tuba. Our own principal Tuba, Charlie Ortega, has led TUBACHRISTMAS in Pueblo since 2014. This year will be no different as he invites tubists from far and wide to join in the camaraderie and sonorous holiday cheer.
On December 18, the Philharmonic will feature Charlie as soloist in the whimsical "Wassail, Wassail all over the Tuba." It's an ideal showcase of the versatility of his instrument, especially in the hands of such a gifted artist. Charlie picked up his instrument (a heavy lift) as a very young man, inspired by his late father, Homer Ortega, who also played tuba. They were extremely close; both lovers of family and music, and that love is now being passed to Charlie's son Aaron, who has followed in their footsteps. These days, Charlie keeps his father's memory close by dedicating each solo performance to him. A member since 2007, Charlie considers the Philharmonic to be his orchestral family. Deep bonds were formed when unfortunate circumstances put Charlie in a coma for four weeks. The musicians and audience rallied behind him and banded together to help him and his family with financial support and lodging through that difficult time.
As the holidays approach each year, Charlie looks forward to playing in Tchaikovsky's The Nutcracker, as it sparks his holiday cheer and puts him in a festive mood. Charlie's favorite holiday memories include being featured in a brass quintet with his musician colleagues performing Christmas carols including "Ding Dong Merrily on High." When he's not playing, Charlie enjoys his free time with his family and recently welcomed a beautiful baby daughter. She was born with special needs and is the light of their lives.
Get tickets for the Christmas Symphony on Dec 18: https://csphilharmonic.org/event/christmas-symphony/