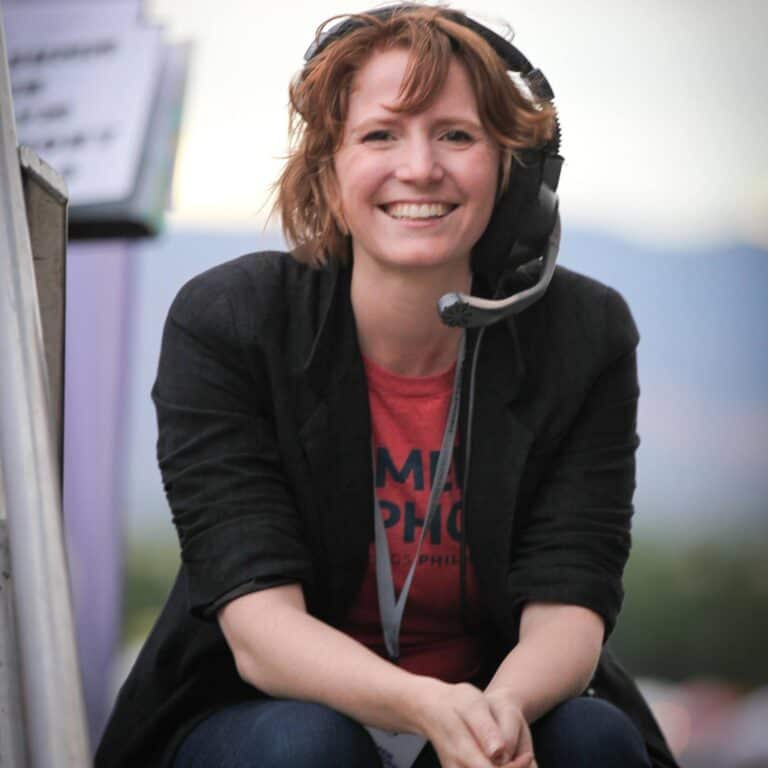 Lynn Holladay, Vice President of Operations

Lynn joined the Colorado Springs Philharmonic in August of 2011.  Her work includes leading and designing concert production, supporting musicians and guest soloists, directing education programs, and community cultivation.
Lynn earned her BA in both Music and Drama from Colorado College. While in college, she performed in countless productions, including as a member of the world renowned Bowed Piano Ensemble, directed by Stephen Scott. She went on to  manage the Bowed Piano Ensemble on tour to Australia and New Zealand. She graduated from Leadership Pikes Peak Leadership Now! in 2013 and graduated from the Center for Creative Leadership Community Leadership Program in 2016.
Lynn comes from a family of engineers who, while they don't create music themselves, are an appreciative audience. As a young person, she was heavily involved in the performing arts, where she danced, acted, sang, and learned to play piano, flute, and trumpet.  Inspired by her own early musical experiences, Lynn has a passion for producing educational content for music lovers of all ages.
Under Lynn's leadership, the Philharmonic's educational offerings have grown immensely. She has overseen the launch of two significant programs: Link Up! in partnership with Carnegie Hall and a suite of educational programs that connect musical concepts to core curriculum standards. These two educational programs, offered each school year, have supported approximately 10,000+ youth per year, primarily those in grades K-5, to experience symphonic music in the Pikes Peak region. More than 6,000 of those students receive free admission through a Title1 free ticket program.  Lynn has also supported local student dancers performing on stage alongside professional dancers through her outreach efforts with the annual Nutcracker production.
One of her favorite aspects of her job is meeting the Philharmonic's soloists and introducing them to Colorado Springs. Whether it's a pre-concert "lucky latte" recommendation to Wild Goose Meeting House, a trip to a salon for a concert night updo at Salon Ivan, a leisurely morning at the Cheyenne Mountain Zoo, or a quick hike in Garden of the Gods – showcasing our beautiful city to visitors is a privilege and a pleasure.
Lynn is also an avid supporter of the Colorado Springs visual arts community. She served as a board member for the UCCS Galleries of Contemporary Art (GOCA), is a proud collector of works by local artists (most notable and favorite artist is Phil Lear).
In her spare time, she enjoys volunteering with Pikes Peak Hospice Integrative Therapies as a member of the Pikes Peak Threshold Singers, urban hiking (aka shopping), taking advantage of the amazing culinary arts available in Colorado Springs, reading, and relaxing at home in Old Colorado City with her husband Cy and their son.