Play Your Special Part
Financial contributions are essential to a growing and thriving Philharmonic.
Click below, or call 719-575-9632 for personal service. And as always, thank you.
Individuals and Family Donors
Join the loud chorus in support of great music, exciting projects and community partnerships made possible thanks to your generosity.
Super Subscribers enjoy recognition and behind-the-scenes adventures. These special friends are season ticket holders who add a donation of $100 or more. More information.
The Maestro's Circle is the society of our most committed patrons. Members make three-year commitments of $1,000 or more and enjoy exclusive hospitality, recognition, and travel opportunities.  Find out more.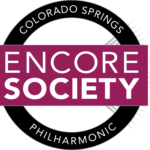 Encore Society members have lovingly guaranteed beautiful music for generations to come. Including the Colorado Springs Philharmonic in estate plans is easy and makes a lasting difference. Joining is simple. Find out how.
A vibrant arts and cultural scene is essential to economic vitality. Business Partners are those corporations large and small who understand this and support the Philharmonic with memberships starting at just $500 per year. A wide range of benefits include marketing exposure, private receptions, VIP Hospitality, and more.