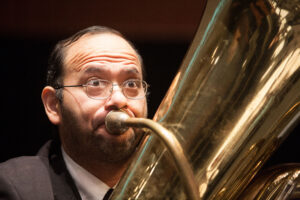 Currently, Charles is the principal tubist with the Fort Collins Symphony and the Colorado Springs Philharmonic Orchestra. He is also the tubist for the Apollo Chamber Brass, a professional brass quintet in the Denver area. He is adjunct faculty at the University of Wyoming-Laramie.
A native Texan, Charles grew up in the Rio Grande Valley in South Texas. He received his Bachelor of Music in Tuba Performance from the University of North Texas in 2000, studying with Don Little, principal tuba (retired) with the Fort Worth Symphony Orchestra. Between his undergraduate and graduate work, Charles was principal tuba with the Disney Grammy Collegiate Orchestra for the 1998 season at Walt Disney World in Orlando, FL. From 1998 to 2001, Charles free-lanced in the Orlando area, playing with the Orlando Philharmonic Orchestra, the Walt Disney World Orchestra and the Candlelight Festival Orchestra at Epcot in the Walt Disney World Resort. He was also a regular substitute for the World Class Brass, the brass quintet at Epcot. Charles received his Master of Music degree from the University of Wisconsin-Milwaukee, studying with Alan Baer, principal tuba with the New York Philharmonic.
In the area of instruction, Charles has been on the faculty of some of the top schools in Colorado, including Arapahoe High School, Mountain Range High School, Loveland High School, Legend High School & Legacy High School. In 2010, Charles became the Adjunct Professor of Tuba and Euphonium at the University of Wyoming-Laramie, where he teaches lessons, conducts the tuba-euphonium ensemble, coaches quintets, and is a member of the faculty brass quintet. He keeps an active teaching studio in the Denver area of Colorado.
In 1991, Charles was the principal tubist with the Young Artist's Orchestra at the Boston University Tanglewood Institute at the Tanglewood Music Center in Lenox, MA. While at Tanglewood, Charles studied with John Manning of the Atlantic Brass Quintet.
Charles has been a finalist for the principal tuba positions with the Colorado Symphony Orchestra and New Mexico Symphony Orchestra. He was also a finalist for the Interim Tuba professor position at the University of Colorado – Boulder.
Charles has also performed with the Irving Symphony Orchestra, Shreveport Symphony Orchestra, Rio Grande Valley Symphony Orchestra, Longmont Symphony Orchestra, Greeley Philharmonic Orchestra, Fort Collins Symphony Orchestra and the Colorado Springs Philharmonic Orchestra. In 2002, Charles was named 1st associate tuba with the Civic Orchestra of Chicago, and was the tubist with the Chicago Civic Brass Quintet. Charles is a founding member of the Apollo Chamber Brass.
Charles can be heard on the commercially available recordings of the North Texas Wind Symphony, including: Luminaries, Wind Dances, Dream Catchers, Deja View and Dialogues & Entertainments, which was nominated for a Grammy. He can also be heard on the educational resource, Teaching Music through Performance in Band, Volume I.
Charles lives in Pueblo, Colorado. He enjoys Mexican food and spending time with his son, Aaron.