We Don't Kid Around
Exposure to the world of classical music gives kids a proven edge in both scholastic and intellectual development. So to help them get a strong start, we offer the following programs…
Philharmonic Kids
This interactive concert series—supported by Philharmonic musicians along with trained classroom docents—focuses on creative discovery and the cultivation of a richer, more fulfilling life through exposure to the arts. "Philharmonic Kids" programs are available to all students in our community, and all studies are reinforced with supplemental curricula, classroom activities, and ancillary teaching materials.
Philharmonic Kids is currently paused because of the COVID-19 pandemic.  Check back here for updates about future school-integrated opportunities.
Free for Kids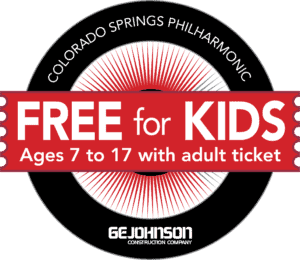 "Free for Kids" offers young audiences an invitation to hear the Philharmonic perform live, in a true concert setting. Admission for ages 7 to17 is complimentary, and made possible, in part, by the support of GE Johnson Construction Company and annual gifts from other generous donors.

Here's how it works: For every adult ticket purchased at regular price, the Philharmonic provides up to two "Free for Kids" tickets. To take advantage of this offer, make your request in person at the Pikes Peak Center Box Office and our staff will happily handle the rest. 
Eligible Concerts (subject to change and sufficient availability)
El Pomar Foundation Masterworks – Pikes Peak Center
Elgar's Enigma – Saturday-Sunday, October 1-2, 2022
Prokofiev and Shostakovich – Saturday-Sunday, October 29-30, 2022
Don Quixote – Saturday-Sunday, January 28-29, 2023
Dvorak 8 – Saturday-Sunday, March 4-5, 2023
Brahms and Beethoven – Saturday-Sunday, April 1-2, 2023
The Ring Without Words – Saturday-Sunday, April 29-30, 2023
Mahler 9 – Saturday-Sunday, May 20-21, 2023
Philharmonic Pops – Pikes Peak Center
Rocket Man: The Music of Elton John – October 21-22, 2022
Celtic Spirit – November 11-12, 2022
Some Enchanted Evening – February 10-11, 2023
John Williams: Beyond Imagination – March10-11, 2023
Mariachi Los Camperos – May 12-13, 2023
Al and Leigh Buettner Signature Series – ENT Center for the Arts
Mozart and Schoenberg – October 8-9, 2022
Tango Piazzolla! – January 21-22, 2022
Beethoven and Mahler – April 22-23, 2022
Terms of Sale: Free for Kids offers complimentary admission in seating levels 2-5 to young people ages 7-17 when accompanied by a regular-price adult ticket (offer excludes senior and military discounts). Up to two Free for Kids tickets are available per regular-price adult ticket. Free for Kids tickets are subject to sufficient ticket availability at select Philharmonic concerts and may not be combined with other offers. Other restrictions and/or exclusions may apply. For young people outside of the ages of participation in Free for Kids (7-17 years), student-priced tickets are available. Philharmonic performances are not recommended for children under 7 years or who are unable to sit quietly for the duration of a concert. This policy is subject to change without notice. Philharmonic subscribers must request Free for Kids tickets in person at the Pikes Peak Center box office and may be re-seated. Any price differences associated with upgraded seats will be charged to the subscriber, and no refunds are issued for moving to a lower-priced seat.
Conductor in the Classroom
"Conductor in the Classroom" offers local school orchestras and bands the rare opportunity to learn under the baton of Music Director Josep Caballé-Domenech, or Associate Conductor Thomas Wilson, in a live school-day rehearsal. Both conductors work with young players, sharing their insights into the processes and joys of performing and staging great music. Want to teach your aspiring young musicians a lesson they'll never forget? Inquire today for participation in our "Conductor in the Classroom" project.