Composer: Nkeiru Okoye (Born in 1972 in New York, NY)

Work composed: 2002
World premiere: Premiered by the Virginia Symphony in February, 2002
Instrumentation: piccolo, 2 flutes, 2 oboes, 2 clarinets, bass clarinet, 2 bassoons, 4 horns, 3 trumpets, 2 trombones, tuba, timpani, 3 percussionists (playing 8 instruments), harp, strings
Voices Shouting Out
Musician and composer Nkeiru Okoye (pronounced "in-KEERroo oh-KOY-yeh") describes herself as"…an American-born composer of African American and Nigerian ancestry. She was born in New York, NY and raised on Long Island. After studying composition, music theory, piano, conducting, and Africana Studies at Oberlin Conservatory, she pursued graduate studies at Rutgers University and became one of the leading African American women composers." Her works have been performed and commissioned by many orchestras, both here in the US and abroad, including: Detroit Symphony, Philadelphia Orchestra, Baltimore Symphony, and the Royal Opera House in London. Equally impressive are her talents as a poet and librettist, as well as her artistic work as a soft sculptor.
Okoye's works are often and rightly celebrated for their focus on African American history and culture. But after the horrifying attacks in Okoye's own hometown on the World Trade Center buildings in New York on September 11, 2001, she focused on the people involved in that tragedy. The commission for the work came from the Virginia Symphony Orchestra (Norfolk, Virginia) and was first performed in 2002. As Okoye describes it, Voices Shouting Out is:
"… a march to  acknowledge those fighting on behalf of our safety, and yet a sparkling celebration of life for those who continue living."
Okoye began writing Voices on New Year's Eve, 2001. Her first response was to pen an elegiac work, but her instincts led her in a different direction. Instead, she turned to reflecting on gratitude, for the first responders and the nameless people who offered help, and on summoning the fortitude of her fellow Americans to move forward, to heal, to remember, to help change. The "voices shouting out" are not those of the victims of the attacks, but the voices of Americans left in the aftermath – it's a message of strength and positivism, and it's exciting to listen to.
Voices begins and continues with percussion instruments creating driving rhythms. The orchestra dives into an ever pressing march, with syncopation and jazziness. Accents and forward momentum give a feeling of strength. And there's anger, too, although it's the kind that evokes defiance and resoluteness. Much of the rhythmic activity portrays this kind of resilience and a sense of pushing ahead despite pain and loss. An example of this musical resilience happens at about one-and-a-half minutes, with two muted solo trumpets. Sounding as though they're bogged down and changing the tempo to something slower, in fact, they're playing a complicated rhythm of beats across the measures. When the orchestra returns to join them, it's in the original tempo, and the trumpets then sound as though they fit in more naturally, in a syncopated sort of way. It's a nice musical representation of the collective resolve that Okoye is celebrating, and the resilience it takes to step forward through obstacles.
Soon after, Okoye changes the momentum in the work's middle section. The music becomes softer and lyrical, and begins featuring wonderful little duets. Especially lovely are the duets for two violins and one for the harp and glockenspiel (a high-pitched metallic percussion keyboard). The jazzy, muscular music returns to end the work, now with even more force and resolve. And to clearly make an exuberant point about Voice's message of strength and hope, Okoye ends the work with 10 repeated bars, like exclamation marks.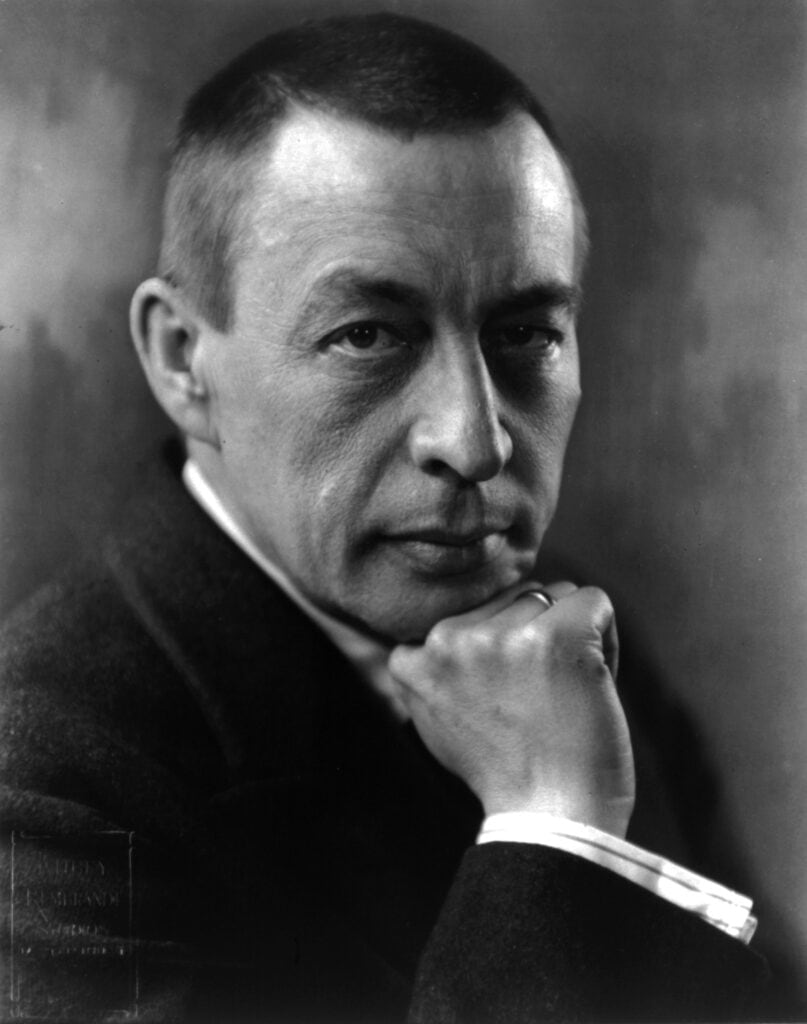 SERGEY VASILIEVICH RACHMANINOFF (1873 – 1943)
Rhapsody on a Theme by Paganini, Op. 43
Composer: Sergey Vasilievich Rachmaninoff (Born in
Semyonovo, Russia in 1873; died Beverly Hills, CA in 1943)
Work composed: 1934
World premiere: Baltimore on November 7, 1934, with the Philadelphia Orchestra under the direction of Leopold Stokowski, with Rachmaninoff as the piano soloist
Instrumentation: 2 flutes, piccolo, 2 oboes, English horn, 2 clarinets, 2 bassoons, 4 horns, 2 trumpets, 3 trombones, tuba, timpani, percussion (snare drum, triangle, cymbals, bass drum, glockenspiel), harp, strings
Rhapsody on a Theme by Paganini, Op. 43
Russian composer and virtuoso pianist, Sergei Rachmaninoff, graduated from the Moscow Conservatory in 1892 with highest honors in piano and composition. After his early successes in Russia, Rachmaninoff left during the chaos there of the 1917 Revolution, dividing his next years between Scandinavia, Europe, and the United States, ultimately settling in the U.S. and becoming an American citizen. He never returned to his homeland, but it's evident that a Russian character in his music, and his admiration for Tchaikovsky's long and beautiful melodies, never left Rachmaninoff.
In 1934, at the peak of his composing skills, Rachmaninoff wrote his Rhapsody on a Theme by Paganini. Scored for solo piano and orchestra, Rhapsody is on its face a set of variations on a theme – that theme being the famous 24th Caprice from the great violin virtuoso Niccolò Paganini's (1782 – 1840) set of 24 Caprices for solo violin (1817). Within his own variations, Rachmaninoff creates a typically virtuosic showcase for the solo pianist, as well his hallmark, sumptuous Russian Romantic harmonies and colors in the orchestra. Rhapsody, though, is also a clever hybrid of forms. Though the variations are played seamlessly without a pause, Rachmaninoff groups them to serve as the three basic movements of a piano concerto: the Introduction until the 10th Variation serves as the fast first movement; Variations 11 through 18 are the slow middle movement; and Variation 19 until the end is the third movement, Finale.
Three particularly clever surprises leap out from the Rhapsody. First, Rachmaninoff does not start with Paganini's theme outright, but rather a short, raucous introduction and then essentially the first of his own 24 variations, which is so pared down, it's just the bare bones of Paganini's theme – several pizzicato (plucked) notes on the strings outlining the basic chords. The cleverness of this unexpected delay of the original theme, of this playfulness of pulling backwards on the forward momentum, foreshadows the whispered quiet that will end the work. The moment is brief, however, and Paganini's theme is quickly heard outright, and appropriately, played by the violins.
A second surprise reminds us of Rachmaninoff's love of church chant. In Variation 7, we hear hints of the Dies irae, a Christian chant from the ancient Mass for the Dead representing the Last Judgment. Rachmaninoff would not have heard this chant in a Russian Orthodox service, rather, he became infatuated with it when it became wildly popular in Russia with Berlioz's Symphonie fantastique. Listen for the beginnings of the Dies irae chant after a brief pause at around three-and-a-half minutes, when the piano and bassoon begin a somber duet – the bassoon playing the Caprice motive in slow motion as the piano plays the Dies irae chant likewise in slow motion. By the end of this Rhapsody we will have heard the Dies irae several times outright, and the beauty of this choice of chant is two-fold: first, it bears close resemblance to Paganini's harmonic scheme in his 24th Caprice; and secondly, it pokes fun at the old folk tale of Paganini's selling his soul to the Devil in exchange for his superhuman gifts with the violin (and with women). No one has ever verified Paganini's Faustian bargain, of course, but the tale was too ripe for Rachmaninoff to resist a sly musical reference to the Last Judgment.
The third surprise is spectacularly clever, and wonderfully breath taking. Amidst dazzling pianistic virtuosity and many exquisite musical moments, Rhapsody is most famous for its gorgeous 18th Variation, also known as the Rhapsody Variation. Here Rachmaninoff inverts Paganini's Caprice motive – by literally turning it upside down – to create perhaps the most cherished melody ever penned. Lush and sweeping, the 18th Variation never fails to make audiences' spines tingle – and so popular has it become that it's frequently performed on its own.
After the beautiful Rhapsody Variation, the work begins to ramp up faster and faster, becoming spellbindingly exciting. But just when we would expect a full force ending of bombast, Rachmaninoff suddenly brings everything to a halt, and the very last notes are essentially the first five notes of Paganini's Caprice motive, played as a whisper. It's a fun, and unconventional, way to end this tour-de-force of virtuosity for piano and orchestra alike, and one of the most satisfying conclusions in music.
PYOTR IL'YICH TCHAIKOVSKY (1840 – 1893)
Symphony No 2 in C minor "Little Russian," Op. 17
Composer: Pyotr Il'yich Tchaikovsky (Born in Kamsko-Votkinsk, near Kirov, Russia in 1840; died in St Petersburg in 1893)

Work composed: 1872; revised 1879-80

World premiere: the 1872 version was first performed in Moscow under Nikolai Rubinstein on February 7, 1873; the 1880 revision was first performed in Saint Petersburg on February 12, 1881, Karl Zike conducting. (The 1880 revision is the usually performed version, and the version performed tonight.)

Instrumentation: piccolo, 2 flutes, 2 oboes, 2 clarinets, 2 bassoons, 4 horns, 2 trumpets, 3 trombones, tuba, timpani, percussion (bass drum, cymbals, tam-tam [often referred to as "gong"]), strings
Symphony No. 2 in C minor, "Little Russian," Op. 17

I. Andante sostenuto – Allegro vivo
II. Andantino marziale, quasi moderato
III. Scherzo: Allegro molto vivace
IV. Finale. Moderato assai – Allegro vivo
In the summer of 1872, Tchaikovsky spent his time off from his teaching duties at the Moscow Conservatory at his sister, Sasha's, country estate at Kamenka, near Kiev, the capital of Ukraine. Tchaikovsky had become fairly cosmopolitan in his years in Moscow, but he also cherished his time in the countryside. During that summer he launched into his Second Symphony, and this masterful early-ish work reflects this time in Tchaikovsky's life that was filled with his growing confidence in his writing skills, and the joie de vivre that surrounded him at his sister's.
Tchaikovsky was, in a sense, still finding his way forward in his writing philosophy while he was composing his first three symphonies. On the one hand, he was schooled in the Western classical style (that is, the German model of Mozart and Beethoven), as opposed to Russia's Mighty Five that included Rimsky-Korsakov and Mussorgsky, who had, on the other hand, turned away from Western models. Meanwhile, Russian Nationalism was all the rage in Russia in the last part of the 1800's, and Tchaikovsky was keenly exploring its merits. One of Nationalism's most important early musical models was a fantastic orchestral work entitled Kamarinskaya (1850) by the Russian composer Mikhail Glinka (1804 – 1857), who was considered the father of Russian music. Kamarinskaya was the first Russian work to use solely Russian folk songs as its main themes, the title itself was also the name of a Russian folk dance. In 1888, Tchaikovsky reflected on Glinka's touchstone work and how it affected Russian composers at the time: "There [was] a real Russian symphonic school … in Kamarinskaya, just as the whole oak is in the acorn." In his Second Symphony, Tchaikovsky ingeniously blends Glinka's and the Nationalist's folk-song approach together with a Western classical symphonic structure, most notably by using folk songs as several of the Symphony's main themes – a fusion that proved to be wonderfully successful.
His folk song inspiration came from an unexpected source. While working on this Symphony during his summer in Kamenka, Tchaikovsky often overheard the servants singing folk songs as they bustled about their household chores. Most memorably, the chargé d'affaires of the house, Peter Gerasimovich, often sang several of the Ukrainian folk songs that captured Tchaikovsky's ear, and which he incorporated wholeheartedly into his Symphony. At this time in Imperialist Russia, Ukraine was referred to as "Little Russia," and though Tchaikovsky didn't give his Second Symphony this nickname, his audiences recognized the Ukrainian origin of the folk tunes that populated it, and so the Symphony soon became referred to as the "Little Russian." (Recently, Ukraine has been lobbying to change this moniker.)
The first movement begins with a lengthy introduction that features one of the richly melodic folk songs that Gerasimovich sang, known as "Down by Mother Volga." The entire introduction, in fact, is woven around this beautiful folk song, lonely and wistful, first played by a solo horn without accompaniment. Tchaikovsky faithfully captures the tune's odd seven-bar phrase shape – creating the sense, to our more "Western" ears, that the tune isn't entirely finished – which gives the beginning of this Symphony a delightful folk-song character. The tune is next heard in the bassoon over a growing accompaniment, then continuing on with this folk tune cast repeatedly over continually changing, and inventively imagined, orchestral soundscapes. This compositional technique – of directly repeating a theme over-top constantly morphing harmonies, rhythms, and instrumentation in the accompanying orchestra – clearly echoes the way Glinka structured his Kamarinskaya, of which Tchaikovsky was so fond.
The rest of the first movement was different in the original 1872 version of this Symphony. By 1879, Tchaikovsky had become spellbound by the works of Mozart and the clarity and lightness of the Classical period composers. He thus revised his Second Symphony with a lighter Classical touch in mind – however, he absolutely did not try to change it into a Mozart symphony. His revisions changed several moments in the work, most notably the thematic material in the Allegro vivo ("fast and vigorously") that immediately follows the introduction in the first movement. Tchaikovsky pulled from another source as this fast section's main theme: It's a five-note motive that begins a Russian Orthodox liturgical chant, called "Let God Arise." Although Tchaikovsky may have lightened up some of the orchestral textures in this revision, he doesn't shy away from high energy. The remainder of the movement moves through waves of building tension and some great counterpoint (secondary musical lines that complement and contrast with the main melody) in the orchestral fabric, creating wonderfully exciting passages. The movement closes with the lonesome horn solo that returns to sing "Down by Mother Volga," the final bars marked by Tchaikovsky as morendo, dying away, Into silence.
The second movement is typically a slow movement in symphonies, but here instead it is a sprightly and absolutely delightful little march. The material for this movement comes from music that Tchaikovsky wrote earlier in 1869 as a wedding march for Undine, an opera that he eventually abandoned. It seems, though, that the march was too dear to abandon with that opera, and so Tchaikovsky repurposed it here. Beginning with solo timpani tapping out a steady tempo, the main theme then falls into step with a wonderfully simple and light-hearted theme. For contrast, the movement's middle section uses another Ukrainian folk tune, "Spin, O my Spinner," a sad and longing melody first played by the flutes and oboes. The march returns with vigor in the final section with ingenious little variations, for example, when the flute and piccolo add gossamer flourishes to the theme.
The third movement, Scherzo, is marked to be played fast and very lively. It's surely a nod to the two Russian schools that vied for acceptance in the 1870's: Tchaikovsky's Western style music making, and the Mighty Five's grass-roots ideals. Resembling the wild, almost diabolical, scherzos of Beethoven, Tchaikovsky pulls back on the tension just enough so that it also hints at the Scherzo in Borodin's (one of the leading members of the Mighty Five) Symphony No. 1 (1867). Even so, Tchaikovsky's Scherzo is uniquely his own, with its rollicking triplets that dance through every bar, surrounded by wonderful little rips of notes in the flutes springing upwards, answered by winds, then strings, ripping downward, creating a kind of little blizzard. A folk tune-like middle section, first played by the oboes and clarinets, abruptly changes from those flying triplets into two beats per bar. The fast-paced, triplet-laden section then quickly returns to end this delightfully manic Scherzo.
The Finale begins with a rather brief introduction of majesty and glory ("Moderato assai," Very moderately), complete with thundering timpani, and crashes from the cymbals and bass drum – clearly setting the musical tone of this finale as something big. Those introductory bars are comprised of a musical fragment of what will be the main theme of the movement, a Ukrainian folk song called "The Crane." As the movement moves into its faster tempo (Allegro vivo), "The Crane" appears outright – a playful and merry tune – its melody heard immediately in the first violins in a series of very short notes, with the second violins soon joining in with chirpy little off-beats. Tchaikovsky treats "The Crane" with the Glinka-inspired, ever-changing orchestral accompaniment underneath, just like he had done with the introductory section of the first movement. The tune's energy and excitement progressively rev up – building up so dramatically, in fact, that after a big, brassy, and percussive climax at about three minutes into the finale, Tchaikovsky introduces a contrasting second theme as a kind of release valve in the aftermath. That second theme is a lovely tune introduced by the strings, soft and lyrical, and which seems to tumble over itself a little on the wrong beats, as if its shoelaces are untied. It's a marvelously light-hearted foil, but Tchaikovsky will also put it to the flames of excitement, mixing it with "The Crane" theme, as the finale builds to a colossal climax with a smash of the tam-tam (large gong). After this, the concluding section sprints to the end, with exhilarating bombast, in one of Tchaikovsky's most thrilling and joyful endings.
© Max Derrickson