It's In His Blood: Violinist Alexander Sitkovetsky
The Colorado Springs Philharmonic is honored and delighted to welcome Alexander Sitkovetsky to perform Shostakovich's Violin Concerto No.1 on October 29-30. In Alexander's family, music has always flowed through their veins. Many of Alexander's family members are well-established musicians and have their own unique biographies such as Dmitry Sitkovetsky, a prolific violinist, arranger, and conductor. Dmitry's parents, also world-class musicians, are the great soviet violinist Julian Sitkovetsky and prize-winning pianist Bella Davidovich, who won the 1949 Chopin competition.  Dmitry is Alexander's cousin once removed, but he endearingly refers to him as uncle. The list of great musicians in the Sitkovetsky's family doesn't end there, however. Alexander's mother is Olga Sitkovetsky, a collaborative pianist for the Moscow Conservatory, and his father is rock guitarist Alexander Sitkovetsky. Alexander lovingly refers to his father as the Black Sheep of the family, who rebelled against classical music and became a rock star. He played guitar and sung vocals for Autograph, the second biggest soviet era Rock band in the 80s. His grandfather was also a director of one of the biggest Moscow orchestras in the 70's and 80's.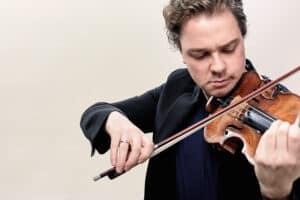 With so many musical influences surrounding Alexander at an early age, it was natural for him to go down the same path. Alexander had his concert debut at age 8 and moved to London to study at the Menuhin school. Yehudi Menuhin was a great influence for Alexander and the two performed together on several occasions. Alexander recently took some time with Nathan Newbrough, CEO of the Colorado Springs Philharmonic, to talk about his unique Parera Stradivari violin which is on loan to him from a generous sponsor through the Beare's International Violin Society.  The Stradivari violin is an early model from 1679 and is hugely influenced by his mentor Amati, the godfather of the modern violin. The Amati influence shows with its smaller and narrower build than later Stradivari models. Alexander mentioned the continued importance of playing these older instruments instead of sitting in a museum or someone's attic. Alexander profoundly states, "They are works of art and incredible living pieces of wood." We are honored to hear Alexander play this unique Parera Stradivari violin on Oct 29-30.
Alexander has had a seasoned career as a violinist. He solos around the world and is the founding member of the Sitkovetsky Trio, where he has won many prizes including the Mecklenburg-Vorpommern Kammermusik Prize. His other accomplishments include first prize at the Trio di Trieste Duo Competition alongside pianist Wu Qian.  His critically acclaimed CPO recording of Andrzej Panufnik's Violin Concerto with the Konzerthaus Orchester Berlin commemorating the composer's 100th birthday won an ICMA Special Achievement Award. Also, his most recent recording with the English Symphony Orchestra of the Philip Sawyers's Violin Concerto was released to great critical acclaim.
Check out the full interview on Youtube