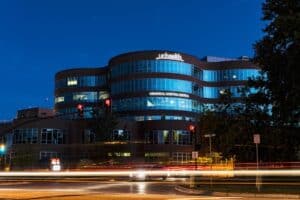 The Colorado Springs Philharmonic is pleased to announce UCHealth as the Presenting Sponsor of the El Pomar Foundation Masterworks series.
"A great symphony orchestra only works with broad community partnerships, and we are so inspired by our relationship with UCHealth and its many providers." said Nathan Newbrough, Philharmonic President and CEO.  "UCHealth shares our belief in the healing power of great music, and the immense benefit that we all gain from a robust arts scene." 
UCHealth – Memorial Hospital is a longtime sponsor of the Philharmonic and will appear as Presenting Sponsor of the Masterworks Series until May 2025. 
"Music is a universal language that helps connect people," says Joel Yuhas, President & Chief Executive Officer of UCHealth in southern Colorado. "We are honored to support the philharmonic in their mission to bring people together to hear great music in our community.''  
The Masterworks series is considered the mainstay for live classical music fans in Colorado Springs and includes seven concerts including composers such as Beethoven and Mahler. Guest artists appearing this season include Alexander Sitkovetsky and Jan Vogler. Through the years, concerts in the prestigious series have been conducted by Lawrence Leighton Smith, JoAnn Falleta, Christian Lindberg, among others.  
About UCHealth 
UCHealth is an innovative, nonprofit health system that delivers the highest quality medical care with an excellent patient experience. UCHealth includes 29,000 employees, 12 acute-care hospitals and hundreds of physicians across Colorado, southern Wyoming and western Nebraska. With University of Colorado Hospital on the CU Anschutz Medical Campus as its academic anchor and the only adult academic medical center in the region, UCHealth is dedicated to providing unmatched patient care in the Rocky Mountain West. Offering more than 150 clinic locations, UCHealth provides extensive community benefits and pushes the boundaries of medicine through advanced treatments and clinical trials, improving health through innovation.