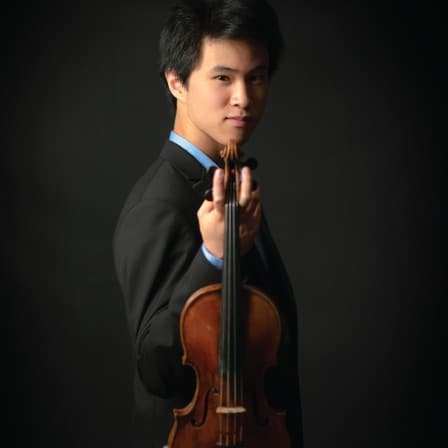 Paganini and Cinderella
Pikes Peak Center for the Performing Arts
190 S. Cascade Ave
Colorado Springs, CO 80903 United States + Google Map
Season Presented By:
Series Presented By:

Series Presented By:
Program
Paganini
Violin Concerto No. 1
Prokofiev Cinderella: Selectionsfrom the Ballet
About The Performance
Virtuosity and romance. What a pair! Kevin Zhu performing Paganini's fiery first concerto coupled with Prokofiev's magical Cinderella told in its entirety through selected excerpts from the ballet.
It was 2018.  The 55th International Paganini Competition in Genoa, Italy.  17-year-old Kevin Zhu took the stage to perform Niccolo Paganini's first violin concerto.  It was stunning.  He took first prize that year, and now brings the same piece to the Colorado Springs Philharmonic, performed on the 1722 'Ex-Lord Wandsworth' Stradivarius violin, which preceded Niccolo Paganini by several generations.   A violinist and composer, Paganini was a musical genius and sensation in his own time – so much so that myths of his age told that his gifts were earned through a deal with the devil.  Without question, Paganini's soul shines through his first concerto, especially in the hands of Kevin Zhu.
This performance climax is Sergei Prokofiev's Cinderella ballet brought to life through selections telling the entire story through music.  It is a journey through one of the Russian composer's most melodious and sought-after compositions, which has inspired choreographers and artists since its premiere in 1945 at the Bolshoi Theatre.  It calls for a large orchestra to deliver the jubilant themes and magical storyline that awaits the listener.
Join us for Colorado Springs Philharmonic Pre-Concert talks. Go behind the curtain and inside the score with these 30-minute pre-concert conversations featuring conductors and guest artists giving their take on the program. Talks begin one hour before performance time.
PROGRAM NOTES …
Read More
Nicolò Paganini
Violin Concerto No. 1 in D major, Op. 6
Composer: born October 27, 1782, Genoa; died May 27, 1840, Nice
Work composed: 1816-18
World premiere: March 31, 1819, in Naples, Italy, with Paganini performing the solo part
Instrumentation: solo violin, 2 flutes, 2 oboes, 2 clarinets, 2 bassoons (1 doubling contrabassoon), 2 horns, 2 trumpets, 3 trombones, timpani, bass drum, cymbals, and strings
Estimated duration: 35 minute 
The emerging romanticism we associate with 19th century music changed both composers and performers alike. One basic aspect of Romanticism is its emphasis on individual experience. Early romantic composers like Ludwig van Beethoven, Franz Schubert and later Robert Schumann, embraced opportunities for particular self-expression that were unique to their lived experiences. In Schubert's case, his exploration of harmonically unusual tonalities gave voice to emotions and moods never before heard in music.
Romanticism allowed composers to prioritize their individual artistic explorations, but the interest in personal expression also gave rise to an entirely new type of performer: the superstar virtuoso. Of all the outstanding instrumentalists who emerged in the 19th century, none could match the sheer technical brilliance or the commanding ego of Nicolò Paganini, the first of this new breed.
There were other great violinists before Paganini, but the musical and artistic aesthetics of their time limited their ability for self-expression. Before Paganini, performers, no matter how skilled, played in the service of their music. They were the interpreters, and it was the music that took center stage.
From his debut performance at age 11 in Genoa, Paganini exploded the idea that the performer should take a back seat to the music. For more than 30 years, Paganini cultivated a new kind of musician: a superstar, with a devoted following who came to hear him play, regardless of repertoire. Everything Paganini did in performance – his penchant for performing all in black, his carefully disheveled hair and clothes, and especially his over-the-top stage mannerisms – was deliberately planned so as to achieve a certain effect: the creation of Paganini the Romantic artist. He was one of the first artists to craft a cult of personality and mystery to accompany his virtuoso playing.
Today superstars are common enough in both music and art, and some trade on their charisma to cover up less than first-rate skill. Paganini manufactured his own mystique – he never allowed anyone to hear him practice, for example – but he also lived up to his own hype. There seemed no limit to his facility on the violin, nothing too difficult or technically unconventional that he could not master. Paganini became known for his left-handed pizzicato notes, and a technique he called the "ricochet," where he bounced the bow quickly across the strings. Most dazzling of all, Paganini executed flawless runs of double-stop harmonics at lightning speed, a skill that left other violinists shaking their heads in admiration.
After he had run through all the suitably virtuoso works in his repertoire – and after a request for a piece by Hector Berlioz resulted in Harold in Italy, which Paganini deemed insufficiently virtuosic for his style of playing, Paganini began composing his own music to create showpieces for his skill. The Violin Concerto No. 1, originally written in E-flat, required the soloist to tune his violin up a half step. The higher pitch allowed for a more brilliant tone, but over time most musicians and orchestras have chosen to perform it in D, a more natural key for the violin (and easier to keep in tune).
As a vehicle for Paganini, the Violin Concerto provides everything a virtuoso would want: plenty of dazzling runs and other lightning-fast tricks, and a clear emphasis on the soloist – the orchestra takes a secondary role as accompanist. Additionally, as in the central Adagio, the music gives the soloist an opportunity to demonstrate lyricism and refined tone. Paganini wanted to dazzle his audience, but he also wanted to move them. He succeeded with Franz Schubert, who, having heard Paganini perform in Vienna, described his playing as "the singing of an angel."
Sergei Prokofiev
Cinderella Suite
Composer: April 27, 1891, Sontsovka, Bakhmutsk region, Yekaterinoslav district, Ukraine; died March 5, 1953, Moscow
Work composed: Prokofiev began writing Cinderella in 1941, and completed it in 1944, on a commission for the Kirov Ballet (the ballet was eventually premiered by the Bolshoi Ballet, however, after the Kirov's prima ballerina, for whom the work was commissioned, left the Kirov for the Bolshoi, taking Cinderella with her). In 1946, Prokofiev arranged three different orchestral suites from the ballet.
World premiere: The full ballet Cinderella premiered on November 21, 1945 at the Bolshoi Theatre in Moscow, led by Yuri Fayer, with choreography by Rostislav Zakharov.
Instrumentation: 2 flutes, piccolo, 2 oboes, English horn, 2 clarinets, bass clarinet, 2 bassoons, contrabassoon, 4 horns, 3 trumpets, 3 trombones, tuba, timpani, triangle, castanets, tambourine, snare drum, tam-tam, bass drum, cymbals, tubular bells, glockenspiel, xylophone, piano, harp, and strings
Estimated duration: 45 minutes
Americans know the story of Cinderella primarily from its saccharine Disneyfied version: beautiful, humble girl triumphs over wicked family and difficult circumstances to win a prince's love. But the original versions of the Cinderella tale suggest the possibility of more nuanced interpretations not found in a Disney movie.
As Sergei Prokofiev's countryman Dmitri Shostakovich had already learned, any composer working within the Soviet system had to be willing to write music agreeable to the powerful apparatchiks who controlled Soviet culture. Prokofiev, too, upon his return to the USSR in 1936, quickly adopted the strict aesthetic parameters of "acceptable" compositions: nothing too discordant or incomprehensible, and no political narratives that could be interpreted as criticism of the Soviet system. Given these circumstances, Prokofiev prudently began writing film scores, like his famous accompaniment to Sergei Eisenstein's epic film Alexander Nevsky, about the great 13th-century Russian hero of Novgorod.
In 1940, the Kirov Ballet premiered Sergei Prokofiev's Romeo and Juliet. Both music and choreography were an instant success, and the Kirov promptly commissioned another ballet from Prokofiev, suggesting the story of Cinderella as a vehicle for the Kirov's prima ballerina, Galina Ulanova. Prokofiev agreed with enthusiasm; one likely factor in his decision, other than the practical desire to follow up one successful ballet with another, is the fact that Cinderella appears on the surface to be the most innocuous and inoffensive of tales.
But Prokofiev, possessed of a sardonic wit and an affinity for irony that features prominently in his pre-Soviet music, managed to subvert the tender ingenuousness of the Cinderella tale into something more humorous, more outrageous, and often tinged with an underlying melancholy not present in conventional treatments of the story.
The wistful, yearning introduction, which captures Cinderella's plight, veers between gloom and the hope – which for all she knows may never be fulfilled – of deliverance. Prokofiev caricatures the wicked stepsisters in their quarrel over a shawl, demonstrating their nasty self-centeredness with shrill comments in the winds, while their relentless complaining is heard in the strings and percussion.
All is not irony, however. "The main thing I wanted to convey in the music of Cinderella," wrote Prokofiev, "was the poetic love of Cinderella and the Prince – the inception and flowering of the emotion, the obstacles in its way, the realization of a dream." In all the movements featuring Cinderella, Prokofiev's graceful lyricism dominates. Prokofiev also considered the practical aspects of writing effective ballet music. "Besides the dramatic structure," Prokofiev explained, "it was very important to me that the ballet Cinderella should be most danceable, that the dances should flow from the design of the plot, be varied, and that the artists in the ballet should have sufficient measure of opportunity to dance and display their art." To that end, Prokofiev included a number of courtly dances: several waltzes, a pavane, a gavotte, and a passionate pas-de-deux. Cinderella's waltz is abruptly interrupted by the clock chiming midnight. This scene displays Prokofiev's mastery of orchestral color: the brasses, shrilling piccolo, tremolo strings and relentless ticking woodblocks convey the drama of Cinderella's predicament and her fear most effectively. After the Prince finds Cinderella and fits the missing glass slipper to her foot, the two lovers drift away on the exquisitely lush melody of the Amoroso, a perfect "happily ever after" ending.
© Elizabeth Schwartz
Read Less
Concert Co-Sponsors
Dr. Susan Rae Jensen and Mr. Tom Adams Trainer
Cathy Morrissey and John Hassebrock
Guest Artist Sponsors
Robert and Janet Armstrong in memory of their parents
Marion and John Meyer
Fred and Linda Veitch