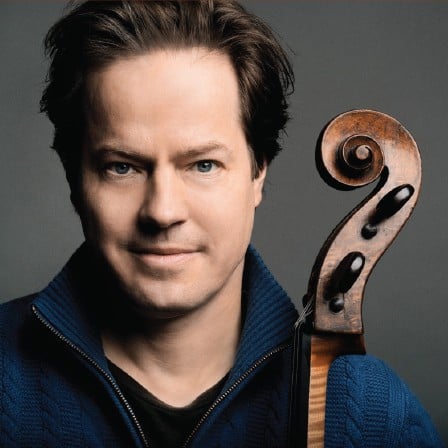 Schumann's "Spring"
Pikes Peak Center for the Performing Arts
190 S. Cascade Ave
Colorado Springs, CO 80903 United States + Google Map
Season Presented By:
Series Presented By:

Series Presented By:
Program
Florence Price Adoration
Camille Saint-Saëns
Cello Concerto No. 1
Robert Schumann Symphony No. 1 "Spring"
About The Performance
As winter's end approaches, there comes the inevitable desire for the first bloom of Spring. Schumann's First Symphony expresses this longing with an orchestral awakening. Opening with an unforgettable brass fanfare that harkens the beginning of Spring, this work is jubilant and celebratory, lyrical and triumphant, breathing and pulsing with the joyous anticipation of Spring.
Colorado Springs' favorite, Jan Vogler, returns to the Philharmonic performing Saint-Saëns' Cello Concerto No. 1 – considered one of the greatest works in the cello repertoire. "Vogler's intense and febrile sound is restrained by classical discipline and enriched by a searching musical intelligence." New Yorker
Join us for Colorado Springs Philharmonic Pre-Concert talks. Go behind the curtain and inside the score with these 30-minute pre-concert conversations featuring conductors and guest artists giving their take on the program. Talks begin one hour before performance time.
PROGRAM NOTES …
Read More
Florence Price
"Adoration" (arr. Ranz)
Composer: born April 9, 1887, Little Rock, AR; died June 3, 1953, Chicago
Work composed: published in 1951. Originally written for solo organ, in recent years "Adoration" has been adapted and arranged for a number of different instrumental combinations.
World premiere: undocumented
Instrumentation: solo clarinet and string orchestra
Estimated duration: 5 minutes
As the first Black female American composer to have a symphony performed by a major orchestra, Florence Price enjoyed considerable renown during her lifetime. Her compositional skill and her fame notwithstanding, due to the racism and sexism of the time, her work was little known and rarely performed for decades after her death. In 2009, a large collection of scores and unpublished works by Price were discovered in a house in rural Illinois. Since then, many scholars, musicians, and audiences are encountering Price's work and her rich legacy for the first time.
The daughter of a musical mother, Price was a prodigy, giving her first recital at age 4 and publishing her first composition at 11. During her childhood and teens, Price's mother was the guiding force behind her piano and composition studies. In 1903, at age 16, Price won admittance to New England Conservatory (she had to "pass" as Mexican and listed her hometown as Pueblo, Mexico, to circumvent prevailing racial bias against African-Americans), where she double majored in organ performance and piano pedagogy. While at NEC, Price also studied composition with George Whitefield Chadwick. Chadwick was an early champion of women as composers, which was highly unusual at the time, and he believed that American composers generally should incorporate the rich traditions of Native Americans and Blacks in their own music. Price, already inclined in this direction, was encouraged by Chadwick, and many of her works reflect the expressive and distinctive sounds of what were then referred to as "Negro" traditions: spirituals, ragtime, and folkdance rhythms whose origins trace back to Africa.
In 1933, Frederick Stock, conductor of the Chicago Symphony, programmed Price's Symphony in E minor, on a concert titled "The Negro in Music," which was performed in conjunction with the Chicago World's Fair. The following year, Stock asked Price to write a piano concerto, which she premiered with him and the Chicago Symphony in 1934.
To support herself and her children, Price worked at several music-related jobs, including playing organ in movie-houses, orchestrating music for Chicago's WGN radio station, and writing popular songs under the nom-de-plume Vee Jay. "Adoration," originally written for organ, has a warm devotional quality in keeping with the genre of semi-sacred popular tunes such as "Because," or "Bless this House." In the past 15 years, "Adoration" has been arranged for a number of instrumental combinations and has been widely performed, both live and on social media.
Camille Saint-Saëns
Cello Concerto No. 1 in A minor, Op. 33

Composer: born October 9, 1835, Paris; died December 16, 1921, Algiers
Work composed: 1872. Dedicated to and written for Belgian cellist, gambist, luthier, and music educator Auguste Tolbecque.
World premiere: Édouard Deldevez conducted the Paris Conservatoire orchestra on January 19, 1873, in Paris, with Tolbecque as soloist.
Instrumentation: solo cello, 2 flutes, 2 oboes, 2 clarinets, 2 bassoons, 2 horns, 2 trumpets, timpani, and strings.
Estimated duration: 19 minutes
Camille Saint-Saëns' career spanned seven decades; during that time, he was both vilified by conservatives for his endorsement of Richard Wagner's music in the late 1850s, and dismissed by Claude Debussy as "the musician of tradition" in 1903.
Debussy's words were meant disparagingly; nonetheless, many of Saint-Saëns' contemporaries, including the notoriously opinionated Hector Berlioz, held him in high esteem. Saint-Saëns favored established (and, to his French detractors, foreign) genres: symphonies, concertos, sonatas, and chamber music. During his childhood and teen years, Saint-Saëns immersed himself in the music of Beethoven, Mozart, Mendelssohn, and Schumann. Throughout his lifetime, Saint-Saëns' most popular and successful works adhered to these Germanic forms.
The A minor Cello Concerto both reflects and departs from tradition: Saint-Saëns compresses the standard three-movement concerto form into one continuous movement with three contrasting sections. The solo part simultaneously showcases the cellist's skill and incorporates the solo line into the orchestra, resulting in a deft musical collaboration.
The premiere of Op. 33, in the winter of 1873, helped establish Saint-Saëns as a rising young composer, but the conductor, Édouard Deldevez, did not think much of it. He told Saint-Saëns that if acclaimed cellist Auguste Tolbecque were not giving the premiere, Deldevez would not have included it in the concert at all. Deldevez' opinion notwithstanding, the concerto entered the repertoire immediately, and has been a favorite of cellists and audiences ever since; Pablo Casals featured it in his London debut in 1905. Biographer Brian Rees writes, "The Revue et Gazette Musicale declared that, if he continued in this vein, [Saint-Saëns] would recover much of the prestige he had lost with 'his all too obvious divergence from classicism and the tendencies in a number of recent works."
Robert Schumann
Symphony No. 1 in B-flat major, Op. 38, "Spring"

Composer: born June 8, 1810, Zwickau, Saxony; died July 29, 1854, Endenich (near Bonn)
Work composed: Schumann sketched the entire symphony in the four days between January 23 and 26, 1841; he took another month to orchestrate the work. The "Spring" Symphony is dedicated to Friedrich August II, King of Saxony.
World premiere: Felix Mendelssohn conducted the premiere with the Leipzig Gewandhaus Orchestra on March 31, 1841.
Instrumentation: 2 flutes, 2 oboes, 2 clarinets, 2 bassoons, 4 horns, 2 trumpets, 3 trombones, timpani, triangle and strings
Estimated duration: 30 minutes
"I wrote the symphony in that rush of spring which carries a man away even in his old age, and comes over him anew every year. Description and painting were not a part of my intention, but I believe that the time in which it came into existence may have influenced its shape and made it what it is." – Robert Schumann
Why would anyone compose a symphony with the subtitle "Spring" during the month of January? In the midst of the darkest, coldest time of year, thoughts of spring can ease the harshness of winter. As Robert Schumann sketched out his B-flat symphony during four hectic days in January 1841, he was inspired by his longing for spring, which seemed very far away in the midst of a bitter Leipzig winter. Spring and its associations of love, fertility, and new beginnings were foremost in Schumann's thoughts; he was a newly married man, having wed Clara Wieck in the autumn of 1840, after a years-long battle with her father for her hand. "After many sleepless nights comes prostration," Schumann wrote in his diary after completing the orchestration for the Spring Symphony, in February 1841. "I feel like a young woman who has just given birth – so relieved and happy, but also sick and sore." The reference to childbirth was not accidental; Clara was pregnant with their first child, born seven months later.
Schumann tended to immerse himself in particular musical genres for specific periods of time. In 1841, he composed no less than four works for orchestra, and scholars have come to call 1841 his "symphonic year." Before 1841, Schumann had been known as a composer of piano music, songs and chamber works; some considered him more of a critic than a composer, because of his writings in Die Neue Zeitschrift für Musik and the fact that he had not yet produced a symphony, considered at that time the pinnacle of compositional achievement. In 1839, Clara wrote in her diary, "it would be best if he [Schumann] composed for orchestra; his imagination cannot find sufficient scope on the piano … His compositions are all orchestral in feeling … My highest wish is that he should compose for orchestra – that is his field! May I succeed in bringing him to it!"
Schumann's musical ideas for the symphony grew out of his response to a poem by Adolph Böttger, which begins with the lines "O wende, wende deinen Lauf/Im Thale blüht der Frühling auf!" (O turn, O turn and change your course/In the valley spring blooms forth!" The symphony opens with an instrumental setting of these two lines: the brasses, in Schumann's description, "summon to life," while the orchestra reveals a valley glowing with spring flowers. Schumann originally gave a descriptive title to each movement, rather than a simple tempo marking. The Larghetto was originally called "Evening," and its graceful, somewhat elegiac main theme, played first by the violins and later by a solo horn and oboe, are a tranquil backdrop against which the energy of the Scherzo ("Merry Playmates") creates a marked contrast. The last movement, "Farewell to Spring," begins with a grand orchestral flourish, followed by a dainty theme for strings, which Schumann cautioned should not be "played too frivolously."
© Elizabeth Schwartz
Read Less
Concert Sponsors
Marty Kelley
John Street and Mary Beazley
Eileen Nobles and Robert Odien
Concert Co-Sponsor
James H. Henderson